Samford & North Brisbane Tennis Fixtures
Do you enjoy competition and want to put your game to the test against other dedicated and enthusiastic tennis players? Maybe you're looking for some opportunities to improve your technique and game in a realistic scenario? Maybe you just want some fun! Then our Samford and North Brisbane fixtures is something to consider.
Whatever you're interested in, Southern Cross Tennis can cater for you. Offering singles and doubles, as well as Davis Cup format, you are sure to find the fixtures style that you want. In our Samford and Brisbane wide tennis fixtures arrangements. Scroll down to find out more…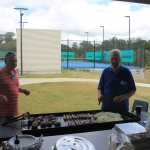 Interested in increasing your Match Play?
Join one of our adult lessons to learn and practice new tactics to use in your matches. Book a lesson now.